RAID ICCCR MAD DASH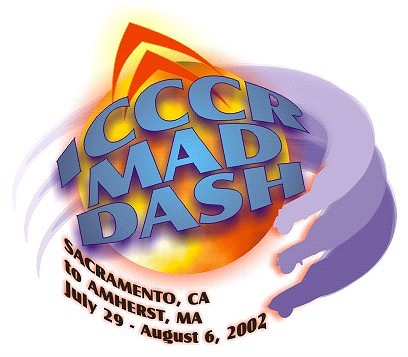 Download the PDF file version IMD-Reg-Info.pdf (660k)
Either click the link to load the PFD file, or right-click and "save target as..." to your harddisk to view and print as you wish.
If you do not yet have the free Adobe Acrobat Reader installed, go to Adobe to get it.
PLEASE NOTE: as of June 01, 2001 the itinerary has changed! The stop-over originally scheduled in Utica, NY has now moved to Binghamton, NY. Also, now that a dry-run was completed in April 2001 of the actual Mad Dash route, some mileages and driving hours have been adjusted. Please consult the updated itinerary below.
---
Raid ICCCR MAD DASH will begin in California with two separate departure points; one in the north and the other in the south. The northern group will depart on Monday, July 29th 2002 from Rocklin, California which is 25 miles (40km) northeast of Sacramento. The southern group will depart the same day from Barstow, California which is 115 miles (185km) northeast of Los Angeles. The two groups will join forces in Evanston, WY.
All CitroŽn models are invited to participate in the Raid caravan, and the schedule will move our group swiftly eastward to take part in the 12th International CitroŽn Car Club Rally in Amherst, MA; August 9-11th 2002.
The route is direct, mainly using I-80 and I-90, passing through Nevada, Utah, Wyoming, Nebraska, Iowa, Illinois, Indiana, Ohio, Pennsylvania, New York and into Springfield, Massachusetts where we will meet up with Raid Northern Trail (originating near Seattle, WA) and convoy together for the final 25 miles of the journey to the University of Massachusetts, in grand CitroŽn camaraderie.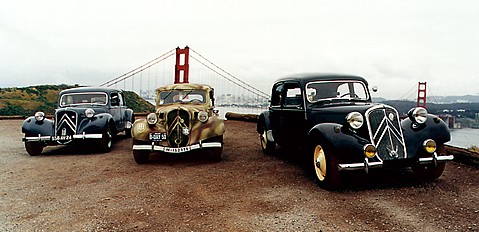 The nine day cross country trip will average 342 miles (547km) per day, of course some days will be more, and others less. Due to the demanding pace, accommodations are planned in motels (rather than camping) so that everyone can unwind each evening and be refreshed for the next days run. We are doing everything possible to keep the costs to a minimum, taking advantage of group rates when possible.
The anticipated cost of Raid IMD is approximately $1,500 per car based on two occupants, as follows:
Entry fee: $35.00 (due with Mad Dash registration)
Motel: $60.00 per night based on double occupancy (children under 18 sharing same room, are free).
Meals per person: Breakfast - $8.00 Lunch - $10.00 Dinner - $15.00
Fuel: based on $2 per U.S. gallon @ 25mpg and 3,000 miles (5,000km) distance.
Please understand that these are just estimated figures... your costs may vary!
Participants are responsible for their own personal expenses (i.e. food, lodging, fuel, etc.) and are expected to have legal documents in order such as driver's license, vehicle registration and insurance coverage. In addition, after receipt of registration, the Raider will receive information on where to call to make motel reservations in their own name, with their own credit card to hold that registration.
We encourage everyone to be certain that their vehicle is in top running condition and that they carry appropriate spare parts for the year and model car they will be driving, as CitroŽn repair shops are few-and-far between! There will be technical assistance available during the trip, and we will endeavor to assist every one who has a mechanical problem, but we cannot be responsible for vehicles that are not properly prepared for such an adventure, nor will Raid IMD be held up due to vehicles experiencing extreme difficulties.
The Raid arrives in Amherst three days prior to the official opening of the 12th ICCCR, and IMD participants are entitled to early registration for the main event. Raiders may stay at their chosen ICCCR accommodations for the additional three nights, take the extra time to relax, do laundry, clean cars, or they are free to make other arrangements and enjoy the surrounding New England scenery. In addition, Raiders are encouraged to volunteer their services to help make the 12th ICCCR a memorable event!
The entry fee ($35) for the ICCCR MAD DASH is due upon registration to the event. This fee is non-refundable outside of a major emergency such as a death in the family or illness with a doctor's certificate. Anyone with a genuine emergency will have their fee refunded in full.
NOTE: The raid will be limited to about 40 vehicles and will be based on first-come-first-serve once we receive your registration form and fees.
The organizers of this event are not responsible for the legalities or behavior of the participants. Each participant agrees to abide by all applicable state and federal laws. (See RULES OF THE RAID)
---
ICCCR Mad Dash Committee:
Richard Bonfond – Vice President
Tom Harper – Raid Leader (South)
Adam Reif – Raid Leader (North)
Henry Reed – Raid Northern Trail
Registration fees should be paid in US funds by personal check or money order, made payable to IMD and sent to:
ICCCR MAD DASH
c/o Richard Bonfond
7975 Orabelle Court
Sacramento, CA
95828-5256 USA
Tel: (916) 689-3928
Fax: (916) 689-0962 rbonfond@lanset.com
---
Raid ICCCR MAD DASH Itinerary
Mon 7/29 Sacramento, CA - Winnemucca, NV 280 miles – 5.5 hrs
Tues 7/30 Winnemucca, NV - Evanston, WY 445 miles – 8.5 hrs (plus 1 hr to cross time zone)
Wed 7/31 Evanston, WY - Cheyenne, WY 360 miles – 6.5 hrs
Thurs 8/1 Cheyenne, WY - Kearny, NE 315 miles – 5.5 hrs (plus 1 hr to cross time zone)
Fri 8/2 Kearny, NE - Des Moines, IA 375 miles – 6.5 hrs
Sat 8/3 Des Moines, IA - Gary, IN 350 miles – 6.0 hrs
Sun 8/4 Gary, IN - Cleveland, OH 360 miles – 6.0 hrs (plus 1 hr to cross time zone)
NEW INFO!!! Mon 8/5 Cleveland, OH - Binghamton, NY 360 miles – 6.5 hrs
NEW INFO!!! Tues 8/6 Binghamton, NY - Springfield, MA 215 miles – 4.0 hrs
Wed 8/6 Springfield, MA - Amherst,MA 25 miles – 0.5 hrs
Southern Route Itinerary
Mon 7/29 Barstow, CA - Cedar City, UT 328 miles – 6.5 hrs
Tue 7/30 Cedar City, UT - Evanston, WY 309 miles – 6.0 hrs
Southern Route joins with the Northern Route at Evanston, WY
---
Created by Adam W. Reif.
Copyright © 2001 [ICCCR MAD DASH]. All rights reserved.