RAID DEEP SOUTH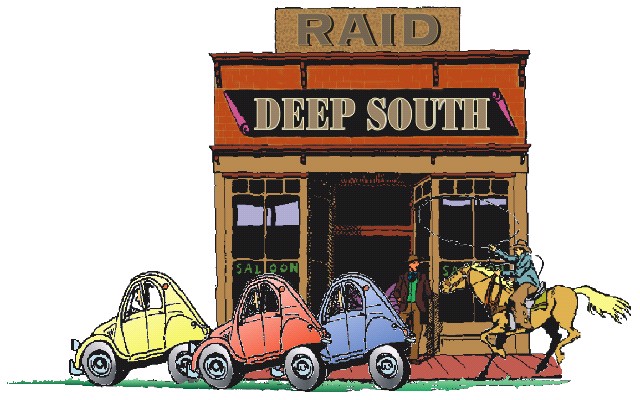 Information at this time is preliminary. Please contact Brad Putchat (bputchat@aol.com) for more information about RAID DEEP SOUTH.
---
Raid Deep South will start from Dallas, TX and will collect those coming from San Diego, Los Angeles, Phoenix, Tucson, El Paso and all others coming over via I-10 and I-20 (and those coming down US 287 from the Denver area).
In Little Rock we will accept those coming in via I-40 from Bakersfield, Flagstaff, Albuquerque, Santa Fe, Amarillo (and those from the Denver area dropping down US 287 but not continuing to Ft. Worth), Oklahoma City, Tulsa & Fort Smith.
Anticipated registration fees: from Dallas is $30; from Little Rock will be $25. Participants will be responsible for all other costs (fuel, lodging, etc.)
The Raid will take about 5 days. We intend to accept 40 cars but may be persuaded to take in more.
---
NOTE: Raid Deep South group organization is separate from the ICCCR Mad Dash
Main Contact: Brad Putchat
P.O. Box 123
Leroy, TX 76654 USA
Tel: (817) 754-4373 bputchat@aol.com
---
Created by Adam W. Reif.
Copyright © 2001 [ICCCR MAD DASH]. All rights reserved.