RAID ICCCR MAD DASH
Frequently Asked Questions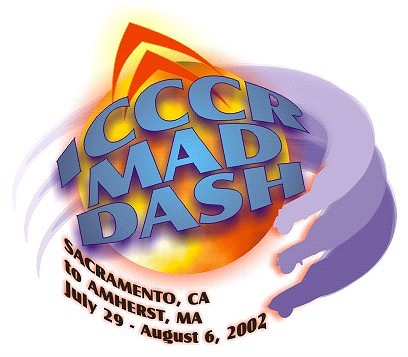 Q: The Mad Dash is moving way too fast for me. Will there be a group that will travel at a more leisurely rate?
A: A slower paced group is not planned at this time, however, some individuals have shown an interest in such a venture. Please e-mail the MAD DASH organizer who can help to pull travelers with similar ideas together.
---
Q: Do I have to start the MAD DASH at the beginning??? Either in Northern/Southern California, or Seattle (Raid Northern Trail)?
A: No. You can start from where ever is most convenient for your schedule or location. For example, if you live in Salt-Lake City, you would join us on the appropriate day. Since each participant will be responsible for their own hotel reservations, you will only pay for the nights you reserve.
---
Q: I want to join the MAD DASH on the 4th day. Do I still need to register, and do I still need to pay the full registration fee?
A: Yes, you need to register, and yes you do need to pay the fee in full. (There are goodies for the Mad Dash Raiders!!!)
---
Q: Do I have to live in the USA to join the MAD DASH?
A: Nope. Anyone, from anywhere can participate.
---
Q: During each days travel on the Raid, are we in a big convoy driving together, or what?
A: Traveling together in a big group is a nice idea, but it is simply not practical. Due to different driving styles, rest breaks, food breaks, and fuel breaks, it just never works out that way. It is typical that small groups of 3 or 4 cars can manage to stick together.
---
Q: I'm okay with driving out to Boston, but some of us work for a living! I need to fly home right after the ICCCR meeting. How can I get my beloved CitroŽn back home?
A: We have one possible solution which is a car-carrier truck filled with 8 to 9 CitroŽns which would cost between $850 and $900 which includes insurance. However, this is NOT an enclosed trailer. The cars would stay on the same truck for the duration of the transport. Contact the Mad Dash organizers if you are at all interested in this option.
---
Q: I have a 1956 2CV with a 12hp engine, and I can only manage 50mph maximum top speed. Can I join the MAD DASH?
A: Yes, but you will have to adjust your driving schedule to fit the MAD DASH schedule. Bring your own brick for the gas pedal!
---
Q: Will there be an organized group to return to the West Coast after the ICCCR meeting?
A: Part 1: If you have a Traction, then the answer is yes. Visit http://www.tracbar.com for more information.
A: Part 2: No. There will be a bulletin board at the ICCCR for posting messages to create your own small groups to organize and agree on a return route, be it to the North, the South, or back down the Middle.
---
Q:
A:
---
If you have a question that is not answered here, you are encouraged to send an e-mail to Adam Reif and it will be answered and added to the FAQ list. Thanks!
---
Created by Adam W. Reif.
Copyright © 2001 [ICCCR MAD DASH]. All rights reserved.